Dollpreneur Dr Lisa posted a joyous film on Instagram saying how she had gotten a huge surprise.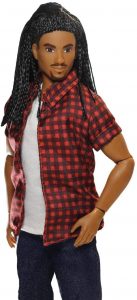 Oprah Winfrey has added The Fresh Dolls to her list of Oprah's Favorite Things 2020
A gang of male and female dolls appear in the category of gifts For the Family. When I clicked the link it brought me to the Instagram superstar Malik. Dr Lisa's female dolls are in the Barbie mode but her black, male dolls are exceptional; sexy, handsome men who have inspired many an insta love story. Malik has played the parts of buddy hubby and boyfriend in many a photo story.
For me Malik will always be the man who tried to chat up Chantelle on a storyline by @msgal1965 – but Chantelle stayed loyal to her boyfriend, also a Fresh Squad gent.
I already had Malik's pic on my blog about where to buy beautiful black dolls . Tomorrow I will add Dr Lisa's story to that blog.