This is a micro-blog to showcase two suppliers who bring unusual collectible black dolls to the UK. The blog was inspired by a new Mizi Doll from JHGFashion Doll in China. who caught my eye with her beautiful African style. The UK website with this doll is Simon's Collectibles – the link has a different name! The Adonis doll who I mentioned before in my blog as an outstanding black male doll is here.
My other UK seller is Bentzen's Emporium.  For this mini blog I will feature a sweet little doll who will go out of production soon – this is  a FailFix, like a mini version of Rainbow High.   She is "related" to Monster High and is a beautifully made doll.  On display she has her 'fail' look so please look closely is you see her on-shelf to appreciate her full beauty.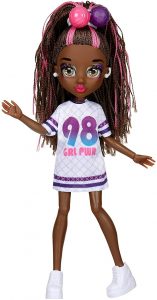 Both these suppliers are great fun to check out – exotic dolls and toys from the United States of America are always exciting when they are well-chosen and displayed. Both sites are worth learning to bookmark.