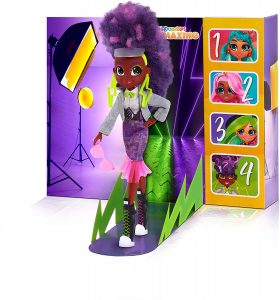 In the run up to Christmas I am doing micro blogs about delightful black dolls. I have a long blog about Where to buy beautiful black dolls online and I am trying to keep up with all the new dolls coming out for the Christmas or Holidays season.
Today I am adding, here comes the title, Hairdorables Hairmazing Kali Fashion Doll. These girls have as their slogan "Big Hair, Don't Care". I will link to the book by the same name by the amazing writer Crystal Swain Bates . They are close in size to Barbie. This review by Lulu's Toy Revue is useful.
The dolls are a set of six tween besties and are hitting what I see as, all the doll trends – they are very poseable, they have surprise accessories, they are a multiracial girl gang and they take hair very seriously. Their slogan is a respectful nod to afro hair and all its possibilities.
My affiliate link is below.