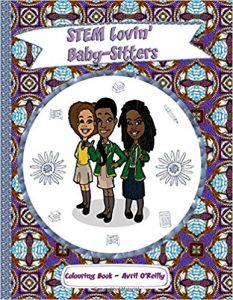 My colouring book has appeared on Amazon. It is a colouring book for little girls who might enjoy being looked after by Jada-Kai, Keysha and Ruby the STEM Lovin' Baby-Sitters. Little girls will like seeing what the big girls get up to.
The baby-sitters appeared first in my book A Fairy in the Family Again. The book tried to make a point about careers in STEM in the beauty industry. There is along history of black women developing hair products.
Imagine working in science to make products you love. Our pal Mumbi has done just that. Girls are going to have STEM careers that we have not even imagined.